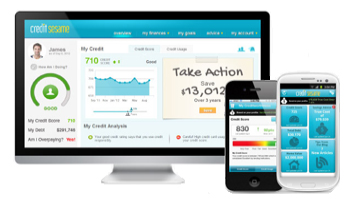 Did you know that you can get your credit score for FREE every month? As in, no paid membership account, no credit card number to give out, nothing! It's secure and completely free. CreditSesame.com allows you to view your monthly credit score and even provides credit report monitoring notifications, all free of charge! I use this service and love how they email me each month reminding me to check it.
As a previous loan officer, I know how crucial it is to know (and stay on top of) your credit score (read our article: Why Your Credit Score is Important here). Just one late payment can heavily impact your score! And I also know how imperative it is to check your credit report on a regular basis to ensure no one has stolen your identity. I've had it happen to me, but I was lucky. I was notified via email when a new account was trying to be opened up, so I was able to stop it ASAP. So I highly recommend that you sign up for this, because even if you don't get your free credit reports from AnnualCreditReport.com, at least you'll know immediately if someone is trying to use your information with the notifications! 
Credit Sesame is a 100% free personal finance credit and debt management tool with no credit card required and no trial period. They help make managing personal credit online, owing less in interest and saving on mortgage, loan & credit card payments, easy as 1-2-3!