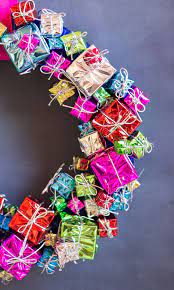 The holidays are here and so is decorating! One of my favorite times of the year to go all out when it comes to home décor. This year get into the holiday spirit by DIYing your own holiday wreath…its actually quite easy to make!
What You Need:
foam wreath
8-10 wrapped mini gift boxes
gift bows – color coordinate if you would like
a figurine of some sort
hot glue gun
How to Make:
1 Attach the gift bows to the foam wreath all around and spaced out with the hot glue gun.
2 In any empty spaces attach more gift bows of all size and the 8-10 mini gift boxes to the foam wreath.
3 The mini gift boxes can be placed on top of one another to make gift piles, and bows can be placed on them as well. Attach the smaller ones on top of the larger ones to create the gift pile look.
4 Glue on your figurine you choose. This could be a Santa Hat, Mistletoe, a larger Gift Box or Bow etc.
5 Hang your wreath up! If you do not have a wreath hook for it you can also attach ribbon to the wreath to be able to hang it anywhere you would like.