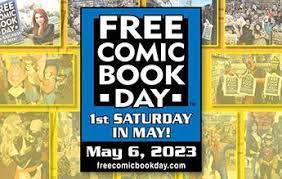 WOOHOO! We look forward to this event every year and we are back on track for the first Saturday of May to continue being the annual FREE Comic Book Day!!! That means this year, you can head to your local comic book shop and snag some FREE Comics on Saturday, May 6th!
If you are new to comic books or graphic novels, this is a great way to sample some. They vary from young audiences to mature audiences. Each store will have their own rules of how many you may get per person, so make sure to find out at your specific location. You can look for a local participating comic shop on the FREE Comic Book Day website.
Want a sneak peek of some of the titles you might be able to score this year?
Seismic Stories 
Archie Horror Presents: The Cursed Library
The Umbrella Academy/ The Witcher 
Star Wars/ Avatar: The Last Airbender
Avengers/ X-Men 
Teenage Mutant Ninja Turtles 
Tom Holland's Fright Night 
Conan The Barbarian FCBD 2023 Special 
Amazing Spider-Man/ Venom 
and many, many more!!!
There are so many comic books to choose from ranging from youth to adult!  I wonder which one(s) you will snag?  Some stores may allow more than one FREE comic book, so make sure to check what your location will be doing!  You can add to your collection or start a new one on Saturday, May 6th!
Find all of the details and more at freecomicbookday.com! Happy Reading!