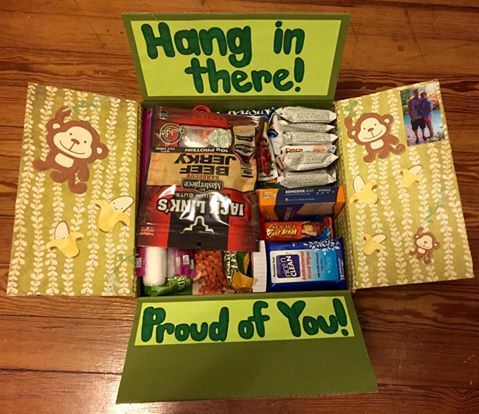 So, as a military spouse, you dread the word "deployment".  However, we do whatever we can to be supportive through that trying time.  We acquire the Powers of Attorney that we need to make things happen while they are gone.  We help in whatever way we can to get through the many pre-deployment checklists.  We help pack our spouse up as best as we can before they come to take his things.  The list goes on and on…then, they leave.
We are now in a technological age where we have so many ways that we can communicate with our spouses even while they are deployed…email, phone, text, face-to-face online chats, and more.  Yet, there is one special thing that we can do to stay connected & help your service member stay connected with home as well.  That special thing is the Care Package.  Those special packages will vary from person to person/family to family based on what the needs & wants are for the service member.
Now, this is one area where I was an epic fail when I was first a military spouse.  UGH!  Quick flashback to 2001, where we had only been married for 6 months and 1 day when we took him to the airport for his first deployment (but who's counting…LOL!)  He was headed to Italy for 4 months and I was totally clueless when it came to what I should/could do, so I did what I knew at the time.  This was pre-social media times and I paid for us to have international calling daily at a mere $200-$300 per month…YIKES!  However, it wasn't until after he returned that I realized that I probably should have sent him a care package (or any mail to be honest).  No one told me these things…OY!
Fast forward to the year 2010 and he is off again…this time for a year to Korea – unaccompanied, of course!  I have since learned about Care Packages and the importance of them for the service members!  So, I am ready this time!  I have planned monthly ones for hubby, so he can have a little bit of home in each box.  I would do some requests and maybe even a few silly seasonal items to help make the box a bit more fun for him.
We had several friends gone locally at the same time, so we coordinated a Care Package drive with the Base Boy Scout Troop and the local American Legion.  Along with many individual sponsors, donations, and lots of filled carts at the local dollar store, we made over 50 Care Packages for family & friends.  It was an amazing experience for all involved…whether they sponsored a package, made a card, or helped load up the boxes, which we stuffed to the brim.
What I found interesting was some of the special items that the service members wanted.  We had made a questionnaire for each member receiving one of these Care Packages so that way, we could send at least one special item just for them!  All of the boxes had similar things in them overall, but we had something personalized for each recipient.  Some of the items were boxes favorite cheese crackers, specialty candy, specific socks, and one of my favorite was a request for Jelly Beans.  Jelly Beans???  Yes, apparently this service member was stationed in Cuba and they didn't have Jelly Beans, so that was the one thing he really wanted since he couldn't get them.  So, it isn't always about the biggest, most expensive items for those Care Packages…it's about bringing a little piece of "home" to them.
So, while my hubby was overseas, I learned a lot about his office over in Korea. What I found out was that most of the other service members weren't receiving anything.  Then, I thought back to my epic fail back in 2001, I didn't want those Airmen to feel left out, like my hubby did back then. (Did I mention everyone else's spouse had sent them Care Packages while he was in Italy?!?!)  Christmas was just around the corner and I wanted to bring some holiday cheer to his office.  Well, I started planning and finding deals and I made 20 stockings FULL of goodies & Christmas cheer.  Then, I sent them off to Korea.  They were all so excited to have had some happy mail!  Mission…Accomplished!
Many people worry about what if I send something they don't like?!?!  Well, that becomes a great bartering tool…ok, so it is more like school lunch time!  LOL!  I will trade you my chocolate bar if I can have your beef jerky!  Since they often share or trade, I rarely worry about the items that are used to fill those boxes nice and full, as someone stationed there will be able to enjoy the goodies that have been sent.
The biggest take-away is that they want a piece of home.  That can be a card, a picture, a care package, or whatever provides that moment of feeling like they are back at home instead of where they may currently be stationed!
Not sure where to get started?
Visit your local U.S. Post Office to get a flat rate box.  If you can't get to the Post Office easily, then you can order supplies through their website, including this Military Care Kit with 6 boxes, tape, labels, and forms to get your started.  You can always bulk order flat rate boxes if you plan to send several Care Packages too.  Additionally, Stamps.com has a great USPS Military Mail Guide to help you out too!
Not sure what to include?
Here is a list of possible items to get you started on filling you box.  Also, I use hard candy and slim gum packs to help fill empty spaces too!  I use every inch of space and get tons of goodies in the USPS Large Flat-Rate Priority Mail Boxes.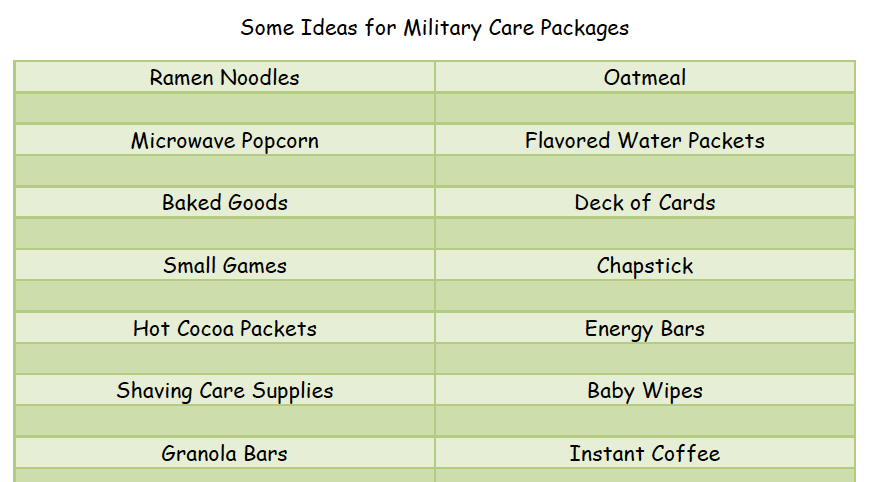 Want this in a
printable pdf
?  Then, make sure to get your printer ready and
print
away!
Looking for some additional resources about surviving deployments?  Make sure to check these posts out: