Leaves are changing colors, the air has a crisp coldness to it, fall is here and with it comes pumpkin flavored everything! Whether or not you are a fan of this beneficial squash, there is no denying it is the ultimate fall flavor.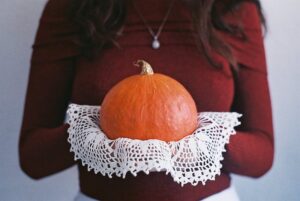 Pumpkin is so much more than pie and spiced coffee drinks. Pumpkins are a great source of potassium and beta carotene  which are needed for a healthy body. With such great health benefits, I say the more pumpkin the better!
So Let's beef up our beta carotene for the day with this delicious and nutritious pumpkin smoothie: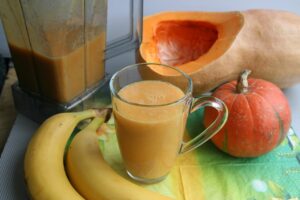 Nutritious Pumpkin Smoothie Recipe by Rosanna Matz
1 1/2 cup Vanilla Soy Milk
¼ cup Pumpkin
½ tsp Cinnamon
¼ tsp Nutmeg
1 TBS of PB2 -I know it sounds nutty (no pun intended), but it really is good
Blend all the ingredients and enjoy!
Another great way to sneak some pumpkin into your breakfast is to put them into pancakes! I recommend this delicious recipe by  Cookie + Kate .
How can you incorporate this fall squash into  entrees? Think grilled, baked, and boiled.  Pumpkin also is great in soups, stir fry, pastas, curries and so much more!
We all know that pumpkin pie is a stable for the fall season as well as  Thanksgiving dessert but its not for everyone! Why not try a pumpkin roll, or a pumpkin dump cake .
Looking  for a lower calorie alternative to pumpkin roll or pumpkin pie?!? Try this  lower calorie whipped pumpkin cream pie! 
Phew. That was a lot of pumpkin for a lot of meals. Just remember that pumpkin is not just for the fall. Sometimes the best meals are those made with creativity and ingredients we often don't think about using. Try something new and you may find it turns into your favorite meal.