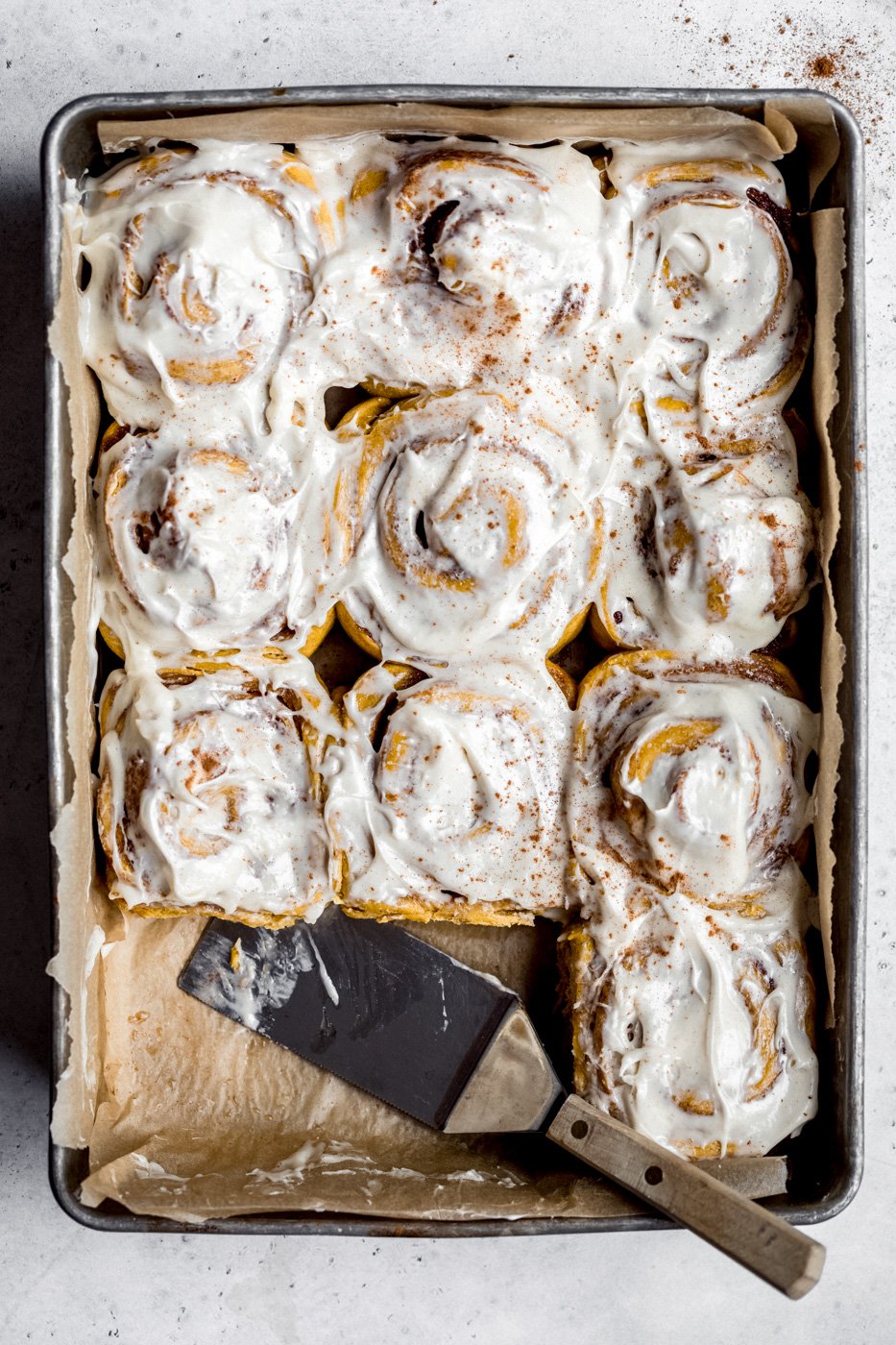 Fall is right around the corner and what better way then to wake up to the fresh smell of ooey gooey pumpkin cinnamon rolls coming from the kitchen! Cinnamon rolls are one of my favorite breakfast treats and they are super easy to make.
Ingredients
Dough:
3/4 C. Milk – any milk is fine
1/4 C. Sugar
2 1/4 Tsp. quick rise yeast
3/4 C. Pumpkin Puree
1/4 C. Butter – melted
1 egg
4 C. Flour
2 Tbsp. Pumpkin Pie Spice
3/4 Tsp. Salt
Filling:
2/3 C. Dark Brown Sugar
1 1/2 Tbsp. Ground Cinnamon
1/4 C. Butter – room temperature
Glaze:
4 ounces Cream Cheese – room temperature
3 Tbsp. Butter – room temperature
1/4 C. Powdered Sugar
4 Tbsp. Maple Syrup
Pinch of Salt
Garnish:
Ground Cinnamon to sprinkle
Instructions
Pumpkin Cinnamon Rolls:
Microwave milk for 1 minute. It should be lukewarm. Transfer warm milk and sugar to a mixing bowl and add the yeast in.
Stir in pumpkin puree, egg and melted butter. Mix well until it is smooth.
Stir in flour, pumpkin pie spice and salt and allow dough to form.
Knead dough on a floured surface for 8-10 minutes. Dough should be a tad bit sticky.
Transfer dough ball to a large bowl greased nonstick cooking spray, cover with plastic wrap and a towel. Allow the dough to rise for an hour – it should double in size.
Roll dough out into a rectangle. Spread softened butter over dough.
In another bowl, mix together brown sugar and cinnamon. Sprinkle over the dough, then rub the sugar into the butter.
Roll the dough up. Then cut into 1 inch sections with a knife.
Place rolls in a greased baking pan. Cover with plastic wrap and a towel on top. Cinnamon rolls will rise again for about 30 minutes.
Preheat oven to 350 degrees F. Once the oven is ready bake the cinnamon rolls for 20 minutes.
Frosting:
In a bowl mix cream cheese, butter, powdered sugar, maple syrup and salt. Mix until smooth. Drizzle over the pumpkin cinnamon rolls, and sprinkle some cinnamon on top!