If you are looking for a delicious party appetizer that you can make year-round, then this Buffalo Chicken Crescent Ring is the perfect recipe! Pin It for later!
Serve up this classic Buffalo chicken appetizer with a crescent twist for the BIG GAME, party appetizers, potlucks, or anytime the craving for something spicy strikes! I recently made this crescent ring for the NFL playoff games and it was devoured in minutes! I'll definitely be making this recipe again. Tip: Lightly butter the ring before popping it into the oven, and then lighter butter again when it's done!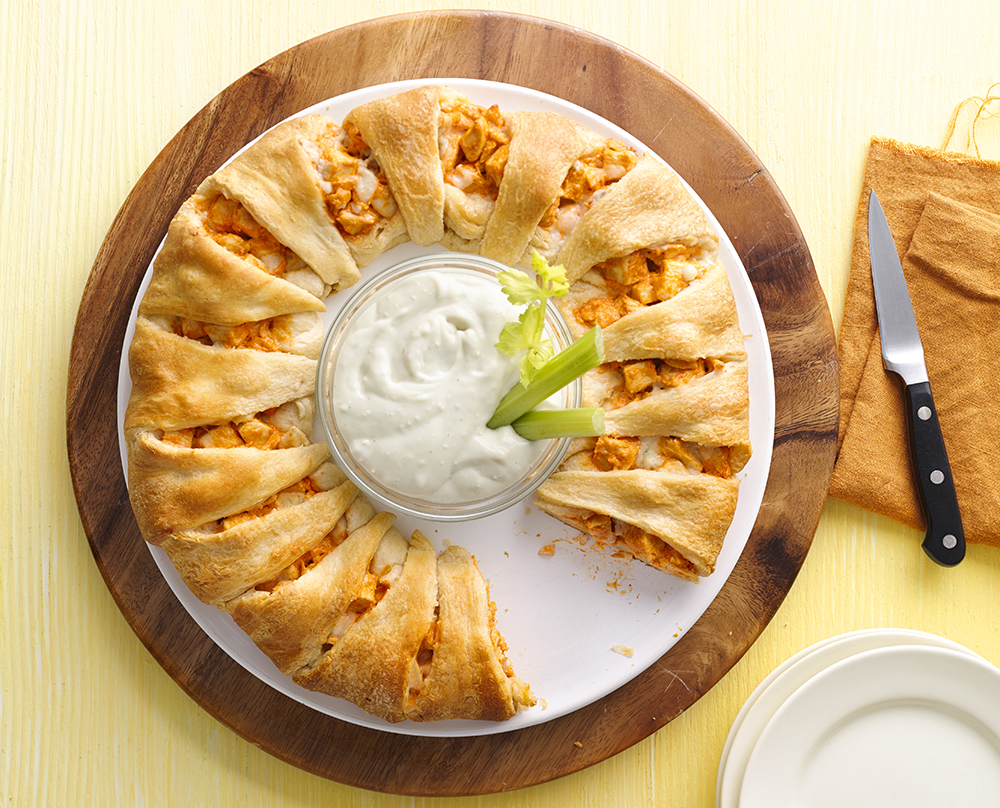 Buffalo Chicken Crescent Ring
Ingredients
4 oz cream cheese (half of 8-oz package), softened
1/4 cup hot sauce or red pepper sauce
2 1/2 cups chopped cooked chicken (1/2-inch pieces)
1 cup shredded Monterey Jack cheese (4 oz)
2 cans (8 oz each) Pillsbury™ refrigerated crescent dinner rolls
1/3 cup crumbled blue cheese
Instructions
Heat oven to 375°F. In small bowl, mix cream cheese and hot sauce until smooth. Mix in chicken and shredded cheese just until combined.
Unroll both cans of dough; separate into 16 triangles. On ungreased large cookie sheet, arrange triangles in ring so short sides of triangles form a 5-inch circle in center. Dough will overlap. Dough ring should look like a sun.
Spoon cream cheese mixture on the half of each triangle closest to center of ring. Top with blue cheese crumbles.
Bring each dough triangle up over filling, tucking dough under bottom layer of dough to secure it. Repeat around ring until entire filling is enclosed (some filling might show a little).
Bake 20 to 25 minutes or until dough is golden brown and thoroughly baked. Cool 5 to 10 minutes before cutting into serving slices.
Cooking time (duration)
Prep 15 MIN Total 45 MIN
Number of servings (yield)
6 servings
Category
Appetizer
Submitted by
Do share! What's your favorite appetizer for parties and potlucks? Let us know in the comments below!