Tis the season for PCSing… If you're moving this summer, you're in good company, and I'm proud to say I just barely survived my 8th military move. As with every military move, it involved a saga, and I look forward to sharing the tale. It all started with a truck mishap on day 1. We opted to do a PPM, Personal Procured Move, formerly known as a DITY. This truck mishap involved the local Home Depot giving away our moving truck that we had reserved 6 months ago. So, the truck company agreed to give us a free 16-foot truck to unload our storage unit. This was all done in 110-degree weather. Just as we finished unloading the storage unit truck, we received a call to come get the truck that had magically reappeared. So basically, our day 1 was a wash thanks to the local staff at the Home Depot taking walk-in reservations, which is explicitly not allowed by the truck company. We finished the day feeling slightly defeated but ready to tackle Day 2.
The beginning of Day 2 started off well, and we worked on loading for most of the morning.  I decided to head to the store for dinner items, and during my time away, I received a call from my husband letting me know we had an AC leak in our home. This resulted in several calls to repairmen and warranty companies, but thankfully, we were able to get this repaired. At the start of our adventure, we checked in to TLF, Temporary Lodging Facility.  We finished up at TLF, a temporary lodging facility, since all of our beds and mattresses were packed and disassembled. Upon returning to TLF after a long and hot day we discovered ants all over our kid's toothbrushes and bathroom. However, we persevered, and Day 3 was a breeze. We were able to finish loading the whole truck on Day 4, and as we went to load my car on the dolly to finalize that step, only to find the battery was dead on my car, and we had to wait two hours for someone to come and jump the vehicle. So, we decided to leave on Day 5 instead.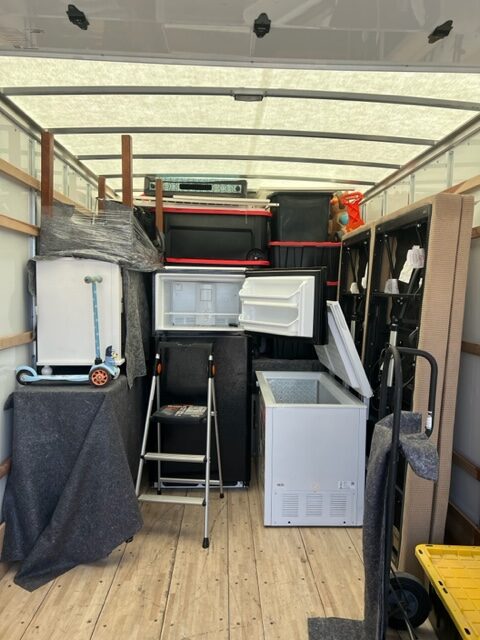 I can't even explain the relief of finally getting in the truck to leave on Day 5! In total, our convoy included a 26-foot moving truck with my car on the dolly, driven by my husband with our two cats in a crate in the passenger seat, while I drove the truck containing our three children, two dogs, towing our horse trailer containing our 10 chickens! Although it was hot, the animals were all happy, and it was time to hit the road. The ride went smoothly for most of the day, but as we neared north Texas, my youngest child had a diaper disaster, and that resulted in a long stop and a trip to the grocery store. Soon after, my middle child had to use the restroom, and we stopped at a Dollar General to stretch. It was at this point my Golden Retriever had an upset tummy and had to have an emergency bath in the parking lot! We continued on our journey, keeping the chickens cool with ice in their crates and lots of cold water.
We made it all the way to Oklahoma and stopped at a gas station for another break, and at that point, a whole bunch of bees had set up shop and infiltrated my vehicle. I hear my 2-year-old talking about cute babies and open the door to see him holding a bee. Not two seconds later, I heard crying and him yelling, "Bee bit me!" The good news is that I know he's not allergic to bee stings. After numerous trials, we were so excited to stop for the night in OK. We had booked a pet-friendly room and were ready for our much-earned rest. It was around midnight when we pulled our convoy into the Holiday Inn, and it was at that moment we realized that there was absolutely no room for our vehicles. Thankfully, we were able to cancel our room and drive for another 45 minutes to a hotel that had room for us!
On Day 6, we finally made it to our destination! I was so thankful to be able to see my horses, which we had hauled up to our new city a few weeks prior, and let my chickens have fresh air! The weather here in the Midwest is much more favorable, but I did not enjoy unloading the truck in 93% humidity! I am so thankful we all safely made it to our next Duty Station. We've spent the last few weeks getting settled. We have managed to unpack most of our boxes, and my oldest started school. We've hit up some of the best local ice cream spots and even explored some local sites. I am looking forward to making the most of this new Duty Station even though I will be moving in about 10 months. I can't wait to take you all along on my next journey.