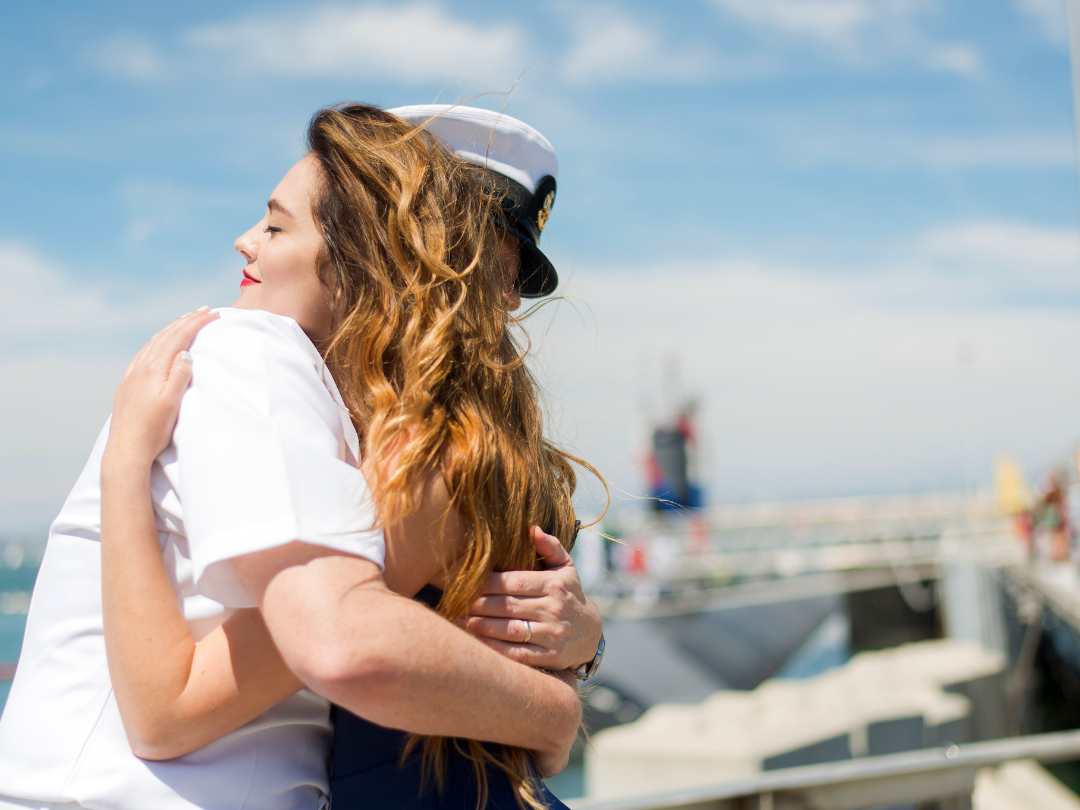 Take Care of Yourself
Let's be real, when your spouse leaves for a deployment you find that you are by yourself a lot more than what you are used to. Normally, you have your best friend to go out with, to do things, to fix things, etc. But this is no longer the case once they leave. The worst part is figuring out how to spend your time, it can be very frustrating. You feel as if you never have enough time to get everything done and also have time for yourself. If you keep going and going and going and you never stop to take a moment for yourself, then you are going to burn yourself out.
However, the good news is you can practice self-care during deployments. Figure out what you need to do for yourself. Do you enjoy getting your nails done? Do you need an hour or two to yourself to go to the gym? Or do you just want a glass of wine and a two-hour window to binge-watch your favorite show? Whatever it is, plan on doing it. The key is to find what you need, but also what you love.
Tips
Planning is a big step in this. By planning things out you can find the time for yourself and the time to complete everything else that needs to get done. It may not work at first and your plans may need some tweaking, but eventually you will get the hang of it. If you need to, go out and buy a planner or order one online and create your schedule. Be sure to set time aside for yourself to do whatever you would like to do. Schedules that are routines can also provided a sense of control and normalcy.

If you are looking for free printable planner pages click here. Canva provides many different template options that are free to use for whatever type of planning you are trying to do from daily planning, meal planning, workout and chore planning etc.
Now if you are like me and love to have an actual book planner, which you could make with the pintables and a binder, you can find planners on Amazon for less then $10. This one is one of my favorites.
Set your goals. Create a list of things you want completed by the time your significant other comes home. For me I choose home renovations. I wanted to have my house painted black and my office and dance studio completed before my husband arrived home. Another goal I set was to take more college classes, so I signed up for more!
Then there is fitness. This may be more important to some then others and that is okay. But if you are sitting around itching to do something then choose to go for a walk or a run, lift weights, etc. Find an activity that you enjoy that can help burn away the excess energy. I always chose to workout late at night that way I would not be wide awake later during the night.
Pick up a new or old hobby. Did you use to play an instrument? If so pick up that instrument again and create some music. Or did you used to volunteer somewhere locally or want to volunteer?
Lastly sports. Almost all bases have a sports team that is FREE to join, whether it is kickball, softball, volleyball, etc. Sports teams are great to join for the weekly social interaction and you get to meet and create new friends! I joined a softball team at Camp Lejeune over 5 years ago and still to this day, I am still in touch with most of the team! We even have been re-stationed together and therefore got to catch up on life! Contact your commands FRO (Family Readiness Officer) to see which sports teams are available at your local base.

Camp Lejeune offers Softball and Kickball teams
Camp Pendleton offers Volleyball and Kickball
All bases on Okinawa, Japan have Softball, Kickball, and a Dragon Boat Team (Lady Shoguns)